35086 profile views [ stats ]
last online: Mar 11, 2015

registered November 11, 2008
Gender : Female
Birthday : September 12, 1974
Occupation : Aero Engineer
Location : London, United Kingdom
---
School : n/a (n/a, Midlands, United Kingdom)
Education : Grad / professional school
Smoker : No
Drinker : Yes
---
Forum posts:
4,388
(1.13 per day)
Favorite bands :
Aerosmith, Alice Cooper, Bauhaus, Blackboard Jungle, Bowie, Dream Theater, Faster Pussycat, Front 242, The Horatii, The Jam, Jethro Tull, Katatonia, Melissa Etheridge, Nekromantik, Opeth, Pearl Jam, Poison, Porcupine Tree, Sick Puppies, Siouxsie and the Banshees, Skinny Puppy, Smashed Gladys, Symphony X, Tigertailz, Tin Machine, UFO, Vain, Van Halen, Violent Femmes
Favorite guitarists :
Vinnie Moore, Andy Timmons, Guthrie Govan, Jason Becker, Joe Satriani, John Petrucci, EVH, Marty Friedman, David Gilmour, Greg Howe, Paul Gilbert, Richie Kotzen, Tony Macalpine, Jez (ma teacher :D)
Favorite books :
Anything by Poppy Z Brite, Garth Nix, Scott Lynch, Robert Jordan, Barbara Hambly...
Favorite tv :
Don't really watch it - at least not with the sound on :)
Favorite movies :
Tank Girl, Clerks, Witness, Evil Dead III, Near Dark
Oldie and still a relative newbie - only been playing since September '08 (I got lessons for my 34th birthday)
I work away from home, so most weekday evenings are spent with my guitar in my lap now, so its getting better although I'm still sux lol. Weekends I go home to my hubby, stepkids and dogs.
Other than that I ski, snowboard (badly), sail, windsurf, read loads (mainly fantasy), play online rpgs occasionally and go to the pub with my mates in London.

Ok, I think everything I've ever recorded, from 3 months onwards, is on here - so be warned. Some of it is baaaad!
I figure it keeps it all in one place, plus if I can't play in front of you guys, I've got no chance with a rl audience who I can actually see lol Leave a comment! (even if its to tell me I suck lol)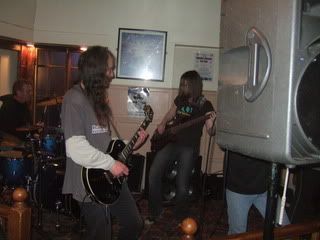 My first gig - thats me at the back wondering how the last 2 hours passed in what felt like about 6.4 seconds!


Oh, and yes Jez, I'm a geek
Sorry