16071 profile views [ stats ]
registered February 13, 2008
Gender : Female
Birthday : August 31, 1989
Occupation : Information Systems Technician, US Navy
Location : Florida, United States
---
School : University of Central Florida (Orlando, United States)
Education : College graduate
Smoker : No
Drinker : Yes
---
Forum posts:
6,657
(1.6 per day)
Favorite bands :
Currently: Tool, A Day to Remember, Alice in Chains, Pink Floyd, Enter Shikari, Chevelle, Queens of the Stone Age, 311, Deftones, Young the Giant
Favorite guitarists :
Adam Jones, John Frusciante, Mike McCready, Jimmy Page, David Gilmour
Favorite bassists :
Flea, Justin Chancellor, Roger Waters
Favorite books :
Candide, The Outsiders, Gulliver's Travels, anything Stephen King, Catcher in the Rye, In Cold Blood, Rosencrantz and Guildenstern Are Dead, Hamlet
Favorite tv :
Dexter, Metalocalypse, Forensic Files, MLB Tonight, Law and Order SVU, NCIS, Family Guy, South Park
Favorite movies :
The Departed, POTC123, The Illusionist, Tranformers, The League of Extrordinary Gentlmen, Disturbia, The Prestige, La Llorona
Own groups: Major League Baseball Fans
Member of: Zeppelinism, Wiki-Whores, 90's Rock, We Let People Listen to Whatever Musical Genre They Want, Girls Of UG club, 60s-70s Rock n Roll, grammer nazi's, Airship Is A Genius, Stratocaster Lovers, Whatever, Dear UG Ladies - Advice for the Romantically Hopeless, Toki Wartooth FTMFW!, Floridians of UG, The Alliance of Amicable 08ers, Secret Admirer Thread = Fail, UG NFL Fans, Ultimate-Guitar Fantasy Baseball League, Floridians of UG
Hello friends and random visitors to my profile on this awesome site we call UG. My name is Talia and I have been playing guitar for about 4 years I think. Because I'm in college, I don't have much time to play it, which makes me
. I am majoring in Criminal Justice and minoring in Psychology at the University of Central Florida. I like to paint my nails, roam the interwebz, watching lame scary movies on sci-fi, and take fancy pics, among other things. I have a kitty named Bear: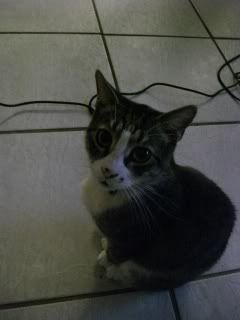 i want to marry this man.



You can add me if you'd like; but I do bite. Seriously.