8603 profile views [ stats ]
last online: Jan 16, 2013

registered September 27, 2008
Gender : Male
Birthday : January 9, 1992
Occupation : High School Student
Location : Tokyo, Tokyo (prefecture), Japan
---
School : Christian Academy in Japan (Higashikurume, Tokyo, Japan)
Education : High school
Smoker : No
Drinker : No
---
Forum posts:
7,017
(1.8 per day)
radomu has 6 pieces of equipment:
Washburn: Idol WI64
Hagstrom: Super Swede
Maxon: OD808
Electro-Harmonix: Big Muff w/ Tone Wicker
Vox: V847A Wah
MXR: Modded Distortion+
Favorite bands :
Led Zeppelin, Stevie Ray Vaughan, The Allman Brothers Band, Foo Fighters, Queens of the Stone Age, Coheed and Cambria, Van Halen, Rush, The Black Crowes, The Who, Cream, The Beatles, Eric Clapton, Derek and the Dominos, The Police, Whitesnake, The Corrs...
Favorite guitarists :
Jimmy Page, Jeff Beck, Eric Clapton, Rich Robinson, Rory Gallagher, Doyle Bramhall II, Stevie Ray Vaughan, Duane Allman, Billy Gibbons, Dave Grohl, Kurt Cobain, Pete Townshend...
Favorite bassists :
Jaco Pastorius, Tal Wilkenfeld, Jack Bruce, John Entwistle, Sting, John Paul Jones...
Favorite books :
His Dark Materials, Darren Shan, Anthony Horowitz...
Favorite tv :
Friends, Absolutely Fabulous, Fawlty Towers...
Favorite movies :
Lawrence of Arabia, James Bond Films, V for Vendetta, It's a Wonderful Life...
Hi, I'm Radomu from Tokyo.
I officially started playing my guitar a month ago when I got my first electric, a Washburn WI64 and a bit of a sluggish start but I'm still enjoying it.
I would like to share info with you guys.

My Political Views
I am a left social libertarian
Left: 4.14, Libertarian: 5.45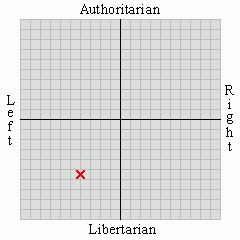 Political Spectrum Quiz


My Foreign Policy Views
Score: -5.68



Political Spectrum Quiz


My Culture War Stance
Score: -7.34


Political Spectrum Quiz
What political ideology do you have?

Your Result: Democratic Socialist

You are the standard European socialist who believes that the government should spend large amounts of money on social welfare programs. You also believe that these social welfare programs are mandated by the people who vote in your ideal democratic government

Communist
Anarchist
Libertarian
Fascist
Authoritarian Capitalist
What political ideology do you have?
Quiz Created on GoToQuiz