83 profile views [ stats ]
Gender : Male
Birthday : December 7, 1996
Occupation : Musician / Hard Worker
Location : Horseheads, New York, United States
---
School : Horseheads High School (Horseheads, New York, United States)
Education : High school
Smoker : No
Drinker : No
mxnpolyamorous has 5 pieces of equipment:
Schecter: Lefty SGR C-1
R.W. Jameson: Lefty Electric Acoustic (No Model Name)
Esteban: Righty Signature
Crate: Non-Tubular DSP
Peavey: TransTube Rage
Favorite bands :
Tool, Breaking Benjamin, A Perfect Circle, Alice In Chains, Soundgarden, Pearl Jam, Nirvana, Rage Against The Machine, Megadeth, Lamb of God, Sevendust, Stone Sour, Chevelle, Red, Lifer, Stardog Champion, Disturbed (Older Content), Linkin Park (Older Content), System of a Down, Three Days Grace (First Two Albums), Coheed & Cambria, Staind, Seether, Evanescence, U2, Metallica, Dream Theater, Opeth, Burzum, Death, Biohazard, and much more!
Favorite guitarists :
John Petrucci, Aaron Fincke, Claudio Sanchez, Benjamin Burnley, Kurt Cobain, Eddie Vedder, Adam Jones, Mark Morton, Dimebag Darrell, Zakk Wylde, Daron Malakian, Dave Mustaine, Jimmy Page, Jimi Hendrix, SilverburstJun (YouTube), and yeah, a lot more that I can't think of.
Favorite bassists :
Justin Chancellor, Mark James Klepaski, Cliff Burton, John Campbell, Jonathan "Bug" Price, Krist Novoselic, Shavo Odadjian, and that's only a few.
Favorite books :
Crank, Impulse, Alex Rider series, To Kill A Mockingbird, Of Mice & Men, and Debt Of Honor.
Favorite tv :
American Dad, Cleveland Show, Family Guy, Soul Eater, One Piece, and a shit load more that I don't feel like saying.
Favorite movies :
Full Metal Jacket, Major Payne, Gran Torino, Wreck-It Ralph, Saving Private Ryan, Of Mice & Men (older version), Up, Toy Story, Monsters Inc. That's all.
mxnpolyamorous is ranked #150831 contributor among all users.
mxnpolyamorous has made 1 contributions to the site total :
Tabs [ 1 ]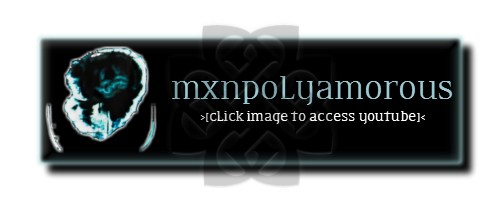 I am 16 years old and I live in NY. I'm a musician, though I'm still a beginner on guitar and learning my way through without expensive lessons, but help with many experienced guitarists who are willing. I have a Schecter SGR C-1 Left-Handed Electric, an Esteban Signature Right-Handed Acoustic, and an R.W. Jameson Left-Handed Electric Acoustic with a cheap, Non-Tubular Crate Amp with Effects and a Peavey Tubular amp that works well, but is also just a jamming amp.

I got the whole discography of both Breaking Benjamin and Tool. I also have the whole APC discography. I'm obsessed with those bands. Questions? Message me.