14894 profile views [ stats ]
registered January 11, 2007
Gender : Male
Birthday : June 6, 1978
Location : Ewa Beach, Hawaii, United States
---
School : Honolulu Community College (Honolulu, Hawaii, United States)
Education : Some college
Smoker : Yes
Drinker : Yes
---
Forum posts:
1,551
(0.34 per day)
Favorite bands :
AC/DC, Black Sabbath, Led Zeppelin, Cheap Trick, Santana, Los Lonely Boys, Los Lobos, The Cult, Jet, Guns 'N Roses, Poison, Def Leopard, Motley Crue, Extreme, Anthrax, Metallica, Megadeth, Stone Temple Pilots, Velvet Revolver, Nirvana, Pearl Jam, Soundgarden, Creed, Rage Against the Machine, Nine Inch Nails, Ministry, Gorilla Biscuits, Civ, Green Day, Black Flag, Rollin's Band, Social Distortion, Pennywise, Rancid, NOFX, Face the Face, Operation Ivy, Ingrid Michaelson, Juliana Hatfield, Bjork, Joan Jett, The Donna's, The Deltones, Dance Hall Crashers, Agent 99, Tantra Monsters, The Selector, The Toasters, The Specials, The Mighty Mighty Bosstones, and stilll too much more to mention.
Favorite guitarists :
Jimi Hendrix, Saul Hudson, Angus Young, Jimmy Page, Tommy Iommi, Billy Duffy, Mike Ness, Steve Vai, Stevie Ray Vaughan, Joe Satriani, Carlos Santana, CC Deville, Eddie Van Halen, Kirk Hammett, Nuno Bettencourt, Paul Gilbert.
Favorite bassists :
Cliff Burton, Flea.
Favorite books :
Piers Anthony - Incarnations of Immortality, Xanth Anne Rice - Vampire Chronicles, Ramses the Damned, The Witching, Christ the Lord Out of Egypt John Saul - Monster, Brainchild, The Homing, Shadows, Darkness Dean Koontz - Mr. Murder, Hideaway, Intensity Anything Star Wars The Bible
Favorite tv :
Friends, Everybody Loves Raymond, That 70's Show, King of Queens, Married With Children, Knight Rider, South Park, Family Guy, American Idol, WWE Raw, Dragonball Z, Initial D, Rurouni Kenshin.
Favorite movies :
Iron Man, Spiderman I&II, X-men, The Matrix I&II, Transformers, Forbidden Kingdom, Crouching Tiger Hidden Dragon, Shaolin Soccer, Kung Fu Hustle, Hero, Initial D, When the Last Sword is Drawn, Ong Bak, The Protector, Stormriders, Final Fantasy VII: Advent Children, Aragami, Kill Bill I&II, Pulp Fiction, Reservoir Dogs, Godfather, Hoodlum, Casino, Star Wars I-VI, The Breakfast Club, 16 Candles, Short Circuit, Weird Science, Superman, Rambo, Rocky, Conan.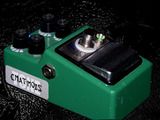 I've been jumping the genres through the years. From GNR, to Metallica, to my father's classic rock, the Cult, the punk/ska years, and then the reggae years. It's nice to be making serious but meaningful noise again.

I've played: Takamine f-349, Alhambra 4P, a Squire Stratocaster, and a PRS SE Singlecut, and owned some pretty lame amplifiers. Kustom Defender. My latest acquirement is a James Goodall KCJ... very beautiful!