Blog archive :
First | Last
Next 10
Previous 10
Hipsters
My friend is writing an essay in which she must define hipster. We spent a while this morning discussing the topic, and i've been spending the last couple hours trying to define a hipster. So I figure I will put my thoughts down in all their chaotic wonder.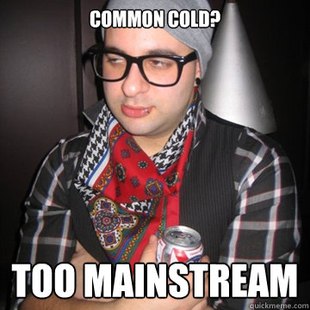 By my definition, a hipster is faux coolness, anybody who tries to be cool. Hipsterdom is full of try-hards who simply want to be seen as cool. It all begins when an individual observes a separate individual being cool. This coolness can come from music, movies, literature, fashion, brand names, basically any goddamn thing on earth. The observer sees this cool person and desires to emulate them in order to be cool themselves. It's all about insecurity leading to imitation. Hipsters are not actually cool people; instead, they simply try hard enough to be cool so that other insecure and observant individuals notice them. Thus begins the cycle of the hipster. Hipster has definitely become an overused stereotype of all things hip and cool. There seem to be a million different types of hipsters as well. This is due to the nature of being cool. Cool, or at least what hipsters would define as cool, is entirely subjective. Hipsters will focus on looks and other superficial things, like taste in literature, movies, and music. They think that those things are what make somebody cool. They are entirely wrong.
Being cool is not a superlative that describes a favorable taste in music, or a terrific fashion sense. That is the mistake of the hipster: too much focus on looks as a way to achieve coolness. Instead, being cool is transcending all superlatives. Genuine cool people don't give a fuck about their level of coolness. Genuine cool people listen to whatever, wear whatever, and read whatever. They are not focused on public perception when doing these things. They recognize the unimportance of focusing on arbitrary tastes, and as such they don't care about those unimportant things. Cool people will never own up to being cool. That would go against the code of coolness: not caring. Hypothetically, a cool person would listen to Nickelback and not care that anybody thinks they are the worst band ever (I have not yet found any evidence of anybody cool ever liking Nickelback, however). Hipsters only desire to be like cool people, but are never able to channel their inner cool due to their misguided means of achieving coolness. They fail to realize that coolness comes from attitude. Are hipsters like cool people? Sure, a good hipster can act like they don't care. But if all they want to do is act cool, maybe they should just go to Hollywood.
To try and sum up the definition of hipster in a sentence: Hipsters desire to be cool, but can never be cool because they are too busy focusing on what it means to be cool. It is an easy path to fall into. I have hipster tendencies. Most people have hipster tendencies. People like for other people to think of them as individual, cool, and original. It's only natural to be a hipster sometimes. But in the end, trying to be cool is a winless battle. It will go and go and go until you stop it. You can't try and be cool. We people just need to realize that most of us just aren't that cool. As soon as we realize that we aren't cool, we can stop caring about being cool. Only then will we be cool.
8:30 pm - 5 comments - 2 Kudos
Wednesday, April 04, 2012
Books
One of my goals this year was to read 5 books by the end of the year. Four months in and i've read 4 and am almost done with 5. I've read:
 
The Old Man and the Sea - Ernest Hemingway

I have an hour before class every M/W/F so I go to the library. I picked this book up and read half of it in that time so I figured I may as well check it out. I really liked it. It was nice and straightforward. Terse, and easy to read.

 

Steppenwolf - Herman Hesse

My Psychology teacher from high school let me borrow this. Really weird ending. There were alot of philosophical concepts that took me a while to wrap my head around. But I liked the overall message of it.

 

The Abide Guide: Living Like Lebowski - Oliver Benjamin & Dwayne Eutsey

Yes, the guide book written by the founders of the Church of the Latter Day Dude. Yes, that's Dudeism, the religion "founded" by these guys. It's essentially modern day Taoism, and the book is able to hilariously relate instances taken from the movie to real life. I've been overusing the words 'dude' and 'man' ever since I read it. It explains how the Dude's beliefs are similar to that of the Buddha, Jesus, Laozi, and a bunch of other people throughout history. I thought it was really awesome because I agree with alot of eastern thought similar to it. It's funny to read even if you don't like religion.

 

Religions - Philip Wilkinson

This was essentially a reference guide to all of the religions of the world. I love reading about religion and spirituality. I learned some more things, refreshed my memory on other things, and already got to use some of the information in discussions with my religious friends. It was organized nicely and stayed objective.

 
I'm currently reading On the Road by Jack Kerouac. 50 pages in and it's pretty cool. I like soul-searching novels, things dealing with finding yourself, experiencing life, etc. After that I have Slaughterhouse-Five by Kurt Vonnegut Jr. lined up, and hopefully i'll find some time to read The Dark Knight Returns before the new Batman movie comes out.
 
So yeah, nobody will probably read this because I never read anybody's blogs. But, if you find yourself reading this, feel free to suggest me books to read. I like the soul-searchy stuff as mentioned. I also like what I assume is called historical fiction. As in alot of Orwell's stuff. Animal Farm is my favorite book. Will I end up reading any of them? I dunno, I have a short attention span and it's been difficult getting myself to read what I have so far. But hit me with whatever.

12:39 am - 3 comments - 2 Kudos
Tuesday, November 22, 2011
Top 20 Beatles Songs (revised)
Reposted, cause i've changed it a bit and expanded it to 20 songs.
 

16. Rocky Raccoon - It's got such an out of character western feel that's in many ways humorous. The talky singing of the verses is straight out of a western musical somewhere, with McCartney providing his best cowboy accent. When he goes back to being British and a harmonica and piano come in, that's when things get awesome. It's simplistic, folksy, satirical, and a nice narrative to boot (lol, get it?).
 
15. Blackbird - I couldn't make this list without paying homage to this song. It's one of the first songs I learned to play on the guitar that made me feel like a badass. It's a good old Beatles song, very pretty, just a guitar and some birds chirping in the background. And it's also one of the first Beatles songs I listened to, so the memories this song contains within itself are too great for me to not include it.
 
14. She's Leaving Home - This is probably the Beatles song that I would say needs more respect. It's straight out of Bach's repertoire. Telling the story of a girl running away from home, the only thing the members of the Beatles actually do in this song is sing. This is a composition, far more complex than the typical pop song of the 60s. Oh, and it's beautiful.

13. Good Day Sunshine - Another happy song. Describes how awesome it is to wake up in love. Listening to the song literally forces the sun to shine it's positive rays wherever the noise is coming from. It's so happy, that even the sun's sun shines down on it. I don't know how astronomy works, but this song's happiness defies all cosmic laws.

12. For No One - Totally underappreciated track off of Revolver, offering description of a heartbreak leaving the narrator lonely. Also there's a French horn in it. Who the hell puts a French horn in their pop song? How often is there a French horn in a pop song? I played the French horn, so naturally I'm sympathetic toward French horn players. Excellent song.  
3. Rain - Why this was never on an actual album is beyond me. One of their best tracks. Notable is Ringo Starr actually kicking ass on drums. This is one of his great performances. The whole song is fairly psychedelic, and that affects my perception of the rain being described in the song. The rain feels like it's colorful, heavy, and dripping slowly like molasses. Nevertheless, it's definitely one of my favorites. I'm probably biased though, because every single time I'm driving around and it's raining this song shuffles on my iPod. So it seems as though fate has told me that I need to love this song. Thanks fate.

12:19 am - 3 comments - 0 Kudos
11 Desert Island Albums
If I was put on a desert island, right now, these are the 11 albums I would hope to have with me.
 

12:30 am - 5 comments - 2 Kudos
Favorite 80s Songs
I've been bored and realized while listening to some alternative radio station that there are a ton of singles from the 80s that kick ass. So I decided to make a list of some of my favorite songs of the 80s. They're all mostly really popular and really catchy radio hits, but I love them all so screw you indie kids...
 
In no order:
 
Peter Schilling - Major Tom (Coming Home)
It's spacey, and has such a ridiculously good and unexpected chorus that seems to come out of nowhere.
 
Big Country - In A Big Country
This might be my favorite of the 80s songs. The celtic, bagpipe synth guitar whatever sound is sortof subtle, but it's noticeable enough to go "holy shit that's awesome."
 
The Cure - Just Like Heaven
Liking this song the most of all Cure songs probably makes Cure fans want to punch me. But whatever, this is a fantastic love song.
 
Dexy's Midnight Runners - Come On Eileen
I gotta bust out my falsetto when I want to listen to this, because it's impossible not to sing to.
 
Grateful Dead - Touch of Grey
This is 1 of the 3 Grateful Dead songs that I like. It has one of my favorite choruses ever due to its catchiness and simplicity. It just sounds so happy.
 
Naked Eyes - Always Something There to Remind Me
Cheeky wedding bells in the beginning. I just really dig the lyrics and love the music in general, it's perfect. I know they didn't write the song, but it's still relateable.
 
Modern English - Melt With You
Mmmmmmmmm, mmmmmmmmm. I don't know how to type out the low hums, but they are cool. Fun love song.
 
Prince - Purple Rain
There are songs of his I like better, but I love the guitar in this. I also love when he sings like a woman having an orgasm.  
 
Sonic Youth - Teen Age Riot
The first Sonic Youth song I ever listened to. It builds and the guitar part is brilliant. On a brilliant album, no less.
 
 
 
I could list many songs, but i'll stop here.

10:08 pm - 0 comments - 0 Kudos
Sunday, February 06, 2011
James Bond Movies
About two years ago, the USA channel showed James Bond films all summer long. They were only on in the early mornings for some reason, so I set my DVR and recorded most Bond films that were shown. I had seen Casino Royale in theaters when it came out, but I was in junior high and had no idea about the history of the Bond franchise. I loved that movie though. After a watching a few old ones via USA, I got a grasp of how James Bond movies are supposed to be. Once I got past that, I fell in love with a handful of them. So here are my top 5 James Bond movies in chronological order.
 
 
 
From Russia With Love (1963): This is the second one I watched after Dr. No. I love the setting and the train sequences. It's probably the one with the best plot, in my opinion.
 
Goldfinger (1964): Definitely THE James Bond movie. This is what James Bond is all about. The witty, Shocking... lines, the two great villains, the PUSSY GALORE! It's just alot of fun.
 
You Only Live Twice (1967): There's something about this one that I love. Not just the fact that it was spoofed to the max by Austin Powers. James Bond dies and becomes an asian. Just badass. Also, what a great soundtrack.
 
Tomorrow Never Dies (1997): My favorite of Brosnan's, with the most badass Bond girl ever. This one just kicks ass.
 
Casino Royale (2006): As it's the first one I was old enough to understand, it's gotta be up there. Daniel Craig plays a great Bond, regardless of his lack of Bond appearance. Vesper Lynd is hawt stuff. The soundtrack is great, way to go Chris Cornell. And the ending is beautiful.
 
 
 
 
To be honest, there's only like 10 Bond movies that i'd be inclined to watch more than once in a blue moon. The 5 I mentioned, plus Dr. No, (1962), Thunderball (1965), Live and Let Die (1973), and Goldeneye (1995). Sean Connery is easily the best James Bond, followed by Craig and Pierce Brosnan. Roger Moore is terrible. Moonraker was the most boring, campy piece of trash ever.
 
I'm watching Casino Royale right now and can't wait until 2012 or whenever the hell the next one is gonna be released. 

9:27 pm - 0 comments - 0 Kudos