Blog archive :
First | Last
Next 10
Previous 10
Saturday, January 10, 2009
What's wrong with me?!
Current mood: geeky
It's 3am, I have to work tomorrow at 9am, and I'm sitting in my room on UG, not even doing anything important, and I just finished recording the Tetris music for guitar.

I'm such a loser.


2:58 pm - 0 comments - 0 Kudos
Uh-oh....
Current mood: scared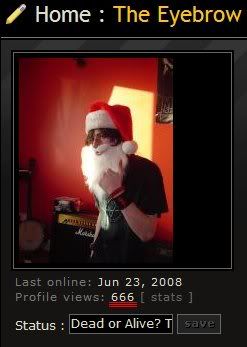 at my profile views!

 
oh, and if you're reading this, you just ruined my perfect 666 profile view counter. thanks a lot... douche...


2:25 pm - 0 comments - 0 Kudos
Hello Mk. II
Current mood: quixotic
Captain's log... forget it.
 
Right, last blog was fecking ages ago, so i guess I should sorta update.
What's new here then...I've contributed a few tabs, three got accepted and the rest were rejected because there's already tabs here, which is pretty cool. Very few ratings though, seems like nobody's using them

 
I've started exploring the pit properly. There is no going back now, it has corrupted my very soul, ruining all my chances of civility and courtesy in any social situation. So naturally, I get all my friends to look at it. Funnily enough, ALL gaming sites, in fact any site which somebody's viewed, has been blocked at school, yet the pit is open.
 
WHAT?!?!
 
So that's all I do at school. As a result, I'm becoming more active here too. I've introduced myself in the Gaming thread, and immediately got lost in the world of RPGs and other games I've never heard of.
Ichikurosaki likes Persona 3 apparantly...
 
Anyway, I'm supposed to be preparing for my Higher exams starting tomorrow, so you can expect an update in about a year or so.
 
Not that anyone's reading this, right?
4:35 pm - 0 comments - 0 Kudos
Hello!
Current mood: busy
Okay, a blog. That's pretty much an online diary, right?

Well, i've just set up my profile, entered

ALL

the information I can, and it's only 27% complete. Bugger. It's very much like myspace, but not as complicated. I suppose that if you wanted html on your profile, it'd be just as confusing. I think i'll be fine without it, Keep things simple. I just copied the html form myspace into vampirefreaks, but i'm not sure if that'd work.

Well, signing off on entry no. 1. Maybe i'll start each entry with "Captain's log, <number> "

5:33 pm - 0 comments - 0 Kudos