3289 profile views [ stats ]
last online: Sep 18, 2009

registered March 28, 2007
Gender : Male
Birthday : July 6, 1989
Occupation : Eject Culmination
Location : Toronto, Ontario, Canada
---
Smoker : No
Drinker : Yes
---
Forum posts:
1,330
(0.32 per day)
Favorite bands :
Lacuna Coil, Between The Buried And Me, Converge, Tool , Muse, Opeth, En twine, The Dillinger Escape Plan, Stolen Babies, Depeche Mode, Avenged Sevenfold, Anaal Nathrakh, Behemoth, Tool, Moonspell, Iron Maiden, Bjork, Mas todon, Megadeth, C radle Of Filth, 3 Inches Of Blood, Aborted, Ca rcass, Chthonic, A nd More 0_o
Favorite guitarists :
No Order (Except the first two): Adam Jones, Synyster Gates, Alexi Laiho, Slash, Paul Waggoner, David Gilmour, Marty Friedman, Matthew Bellamy, Mikael Еkerfeldt, Dave Mustaine, Marty Friedman, Buckethead, etc.
Favorite bassists :
No Order: Troy Sanders, Geddy Lee, Martin Mendez, Dan Briggs, Christopher Tony Wolstenholme, Justin Chancellor, Tom Araya, etc.
Favorite books :
1984, Perfume, The Crucible, Firestarter, The Shining
Favorite tv :
Metalocalypse, Robot Chicken, Family Guy, House, Ghost Whisperer, South Park, That 70's Show, Two And A Half Men, The Simpsons
Favorite movies :
No Order: Donnie Darko, The Shining, V For Vendetta, Ichi The Killer, Jacob's Ladder, Billy Madison, Audition, Superbad, Shawshank Redemption, and many many more.
Mask_Of_Sanity is ranked #50165 contributor among all users.
Mask_Of_Sanity has made 1 contributions to the site total :
Reviews [ 1 ]

I'm anDy. And I am peculiar.


I draw and use photoshop, as art is one of my passions.


I also play guitar, bass, and recently started drums and piano. So that's me in a nutshell musical wise.


I am very interested in Medieval, Egyptian, Mayan (and Aztec) and East Asian history. If it includes knights, Egyptian gods, human sacrifices, or shogun warriors, I am very well interested in it.


I am in a progressive death metal band called Hard Edge Abstract (of whom are looking for a drummer), and I have my own industrial gothic metal side project called Croak Not, Black Angel. Songs shall be up asap. =]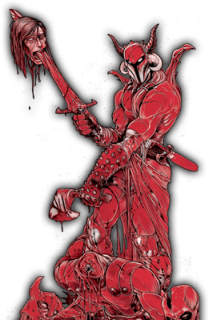 Since Emad's so fixated on looking on my page, he is an ugly cunt.