Blog archive :
First | Last
Next 10
Beery Updates.
Current mood: cheerful
Beer project is still going strong.  A lot of the updates remain on facebook, but as i'm sitting here, i've realized within one summer i'm brewed up approximately 94 liters / 25 gallons of beer.
batch #1 - Neighbours recipe (cool old dude started me on it)
batch #2 - American Pilsner Kit (gone, sold)
Batch #3 - Stout Kit with added cocoa
Batch #4 - Brown Ale (tastes phenomenal) 
Batch #5 - Lager Kit (my own private stash - low alcohol)
Why would I make a low alcohol brew?  I'm fairly lightweight when it comes to drinking, and i actually just really REALLY like the taste of beer.  I figure a low alcohol brew can let me enjoy my creations without feeling dragged all the time.
There's an incredible satisfaction to beer brewing, much like when a person has their moment of culinary/musical/creative genius, that just makes you feel good.   When you can share it with you buddies and they swear off commercial beer or even start little breweries of their own..  You know you've made a difference.
8:49 pm - 1 comments - 2 Kudos
Music wanes.. beer brews.
Current mood: calm
Lately, i've become less and less driven to make music..  not sure why.. it just seems to be happening.   Likely dude to the fact that not many people in my area are able to jam, as well as the fact i find it difficult to find anyone I enjoy working with musically.  Its tough to maintain focus without another person pushing you forward with their own ideas and fuelling yours.




So what to do now???




As a side project to music, I've taken to brewing beer.   It seemed like the next logical step since the two go hand in hand so well.   Both easily shared with friends, both equally enjoyable at anytime.




I've already made and had my friends enjoy my first batch, the second batch has just been bottled, and soon to be enjoyed by friends again.




Pics here!



9:24 pm - 3 comments - 2 Kudos
Monday, September 14, 2009
4444 views.
just thought i'd write about the fact that at this very moment, there was 4444 visits to my profile.

there is nothing special about this aside from the fact that there are 4 4's.

this has been a public service announcement, if t was a real emergency, your radio would be melting in your hands.
4:38 am - 1 comments - 1 Kudos
Saturday, August 22, 2009
nearly 10 years later.. back to school!
Current mood: determined
In the year 2000 i found myself a fledgling high school graduate of an now defunct Collegiate located in thunder bay ontario.

Although in my last semester I had graduated with honours, (nothing special for a public school anyway) without a path; plans; or money for post secondary..  my life had been laid to obscurity in the service industry as a kitchen slave. 

The journey began washing dishes for minimum wage (then $6.85 CAD/hr) and throughout the years, new cities, new kitchens, matured work ethics and confidence, I'm now finally truly ready to bury my head in the books and start a true career in the field of Mechanical Engineering.

Although i'll still have to work in kitchens to earn my keep and tuition, I'm very excited in taking new steps for the betterment of my future family.




and hopefully still have time to play some drums and guitar.

12:54 am - 1 comments - 2 Kudos
Tuesday, December 16, 2008
ARG, what happened to my mix?
Current mood: disappointed..
so today i got my order of CD's in.

I'm currently on a compilation CD available via Full moon records.  now while i'd normally be happy with this, for whatever reasons they figured, the producers the recordings went to before being headed to full moon records decided they'd change the mix up in BOTH of my songs.

both songs on this CD turned out into an audio abortion of sound..

"into shadow" was reduced into a bath of bass farts as well and one guitar being lost completely in the mix and also mixed down into mono.. (wtf??) 

and more or less the same with "These children walk alone"  in MONO with one guitar being completely lost.. and everything mixed completely out of proportion..

i don't know why this could have happened, but now i'm stuck with 50 cd's that i'm too embarrassed to sell because it doesn't represent my work AT ALL as a musician or a 'producer'

ALSO, there's at least another 500 copies of these compliations that people are going to buy, listen to, and go.. "wow this guy sucks".

its heartbreaking to see my work so misconstrued..
8:55 am - 2 comments - 0 Kudos
Vdrum project nearly complete!
Current mood: accomplished
FINALLY got all the grunt work done! things like drilling, mounting, soldering, more drilling are finally complete..



I started out with this...
notice the small all rubber v-drum kit. (roland td-6 with some extra pads)




bought some second hand drums from the used section in my newspapers..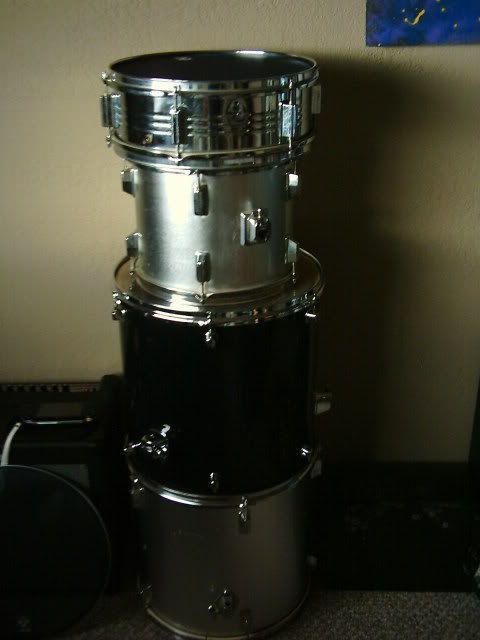 stripped em down and began the refinishing..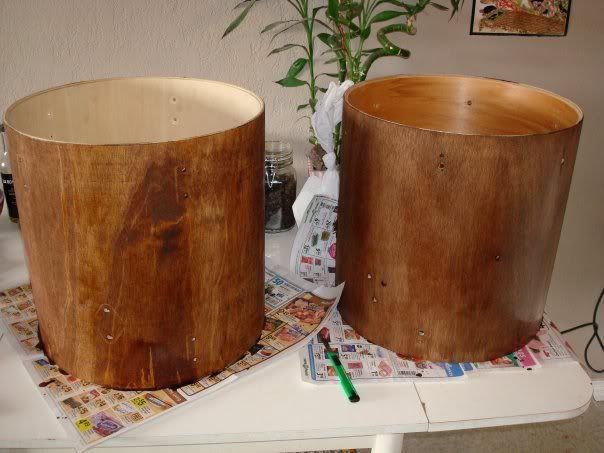 1 tom i cut in half to gain 2 12" acoustic triggers




bought some parts to mount the whole thing to the rack, and VOILA.

just gotta wire it all up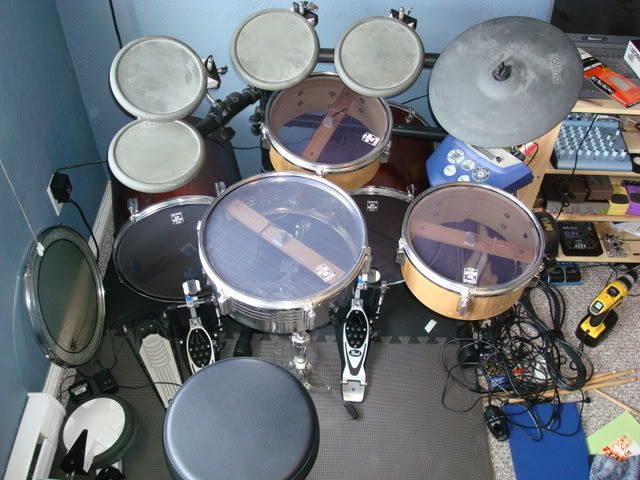 You can see i also upgraded my kickpedals to 2 single pearl elimnators instead of the old double bass pedal by Dixon.

now to upgrade the module.. :O
9:25 am - 2 comments - 3 Kudos
Judas Priest!
Current mood: stoked!
It is tomorrow that tickets go on sale for Judas Priest in my city (victoria)  Hoping to snag a couple of tickets for my wife and I to finally be able to see the band that got me into guitar!

stoked!
10:41 am - 0 comments - 0 Kudos
New challenges and Drum building.
Current mood: calculating..
lately i've been drifting a bit further from metal.  maybe i'm getting older and more mellow.  but recently i've been out for different challenges.  classical seems interesting but still not quite my style.  the search goes on but i've found some very interesting styles to keep me entertained.

my next challenge has been to keep on my drumming but whilst living in apartment, its difficult to do when the building is kinda crappy and gets rattled easily by even the smallest things. 

I do got an electric kit which keeps the actual noise down, but its the foot pedal that gets em. too much 'duga duga duga duga" for them.  XD

anyway, my new project is to construct new electronic drum shells that will be dampened enough to absorb the vibration and allow me to practice without being reduced to "tapping"

i think a new shock absorbing platform will be a good start as well.

4:29 pm - 0 comments - 2 Kudos
The gear plan - 2008
Current mood: calculating excitement
so the gear bug has bitten me pretty hard.. i got 3 purchases in mind to make for this year..

guitar amp - Traynor YCS50




Probably gonna sell my Kustom KGA65 and pickup this amp.  even tho it looks like an old man amp, its got some serious chunk for metal.
selectable 50-watt Class-AB / 15-watt Class-A output
1x12-inch Celestion Vintage30™ Speaker
Footswitchable full Two Channel Configuration
Brit / USA Voicing Switch on Clean Channel
Modern & Scoop Voicing Switches on Lead Channel
Parallel and Loop-thru Effects Sends and Returns
Vintage style Accutronics Long-Spring Reverb
Master Volume, Defeatable Presence and Resonance Controls
Solid Plywood Cabinet Construction
Aluminum chassis

Next is a bass amp, the SWR workingpro 12




i just sold my half stack and looking to get something smaller. 200 watts and i've recently discovered the awesomeness of the 12" speaker.

and finally, a new guitar..




no its not a metal juggarnaut shred machine..  I recently decided that i should learn classical guitar.  after making this purchase, i will then seek professional instruction in classical guitar. 

this isn't the picture of the exact classical i wanted.. but its pretty tough to tfind the one i was looking for..  which was a yamaha cutaway with a solid spruce top.


all of this clocks in over $2400 after taxes.  but, the amps are something that'll last and can probably let my kid (when i have one) inherit, and classical is something i've been interested ever since i was 4.  so.. it'll be worth the wait.


11:02 am - 0 comments - 0 Kudos
Saturday, October 20, 2007
Before and After. the refinishing of a bass
Current mood: accomplished
well not really a story, but i just finished (no pun intended) a bass i've been working on for awhile.




here it is as it was when i first bought it besides the defretting.  I had defretted this bass for an experiment since i had bought a new bass which is far superior to this one.

I carefully pulled the frets out with some pliers, filled in the cracks with some wood filler, then sanded and finished it with a satin type finish.

then i started on the refinishing stage because the dark purple colour soon began to disgust me.




here it is after the stripping and re-finishing.

i stripped the first layer of paint using a heat gun and a scraper.  after the first paintjob was completely gone, i had sanded it and stripped what i suppose was primer to get to the bare wood.   I finished it with some more satin type finish and sanded it again with a 320 grit to give a nice smooth feel.  i then used a spray on clear coat (urethane) to give a slight gloss, and then sanded it again with 320.

its not wired back up yet, but all put together for visual purposes.

for this bass, not really worth it.  but i had fun doing it
7:30 am - 2 comments - 1 Kudos