6180 profile views [ stats ]
registered December 22, 2008
Gender : Male
Birthday : September 24, 1992
Occupation : High School Student
Location : Rio Rancho, New Mexico, United States
---
School : Rio Rancho High School (Rio Rancho, New Mexico, United States)
Smoker : No
Drinker : No
---
Forum posts:
2,336
(0.61 per day)
Favorite bands :
http://www.last.fm/u ser/thegreatergonzo
Favorite guitarists :
John Petrucci, Adam Jones, Steve Wilson, Al Di Meola, Kirk Hammet, Mikael Еkerfeldt, Alex Lifeson, Paul Waggoner, Jack White, Per Nilsson,Steve Howe , and Tosin Motherfucking Abasi
Favorite bassists :
WTF is a bassist!!!?
Favorite books :
Hithchiker series, The Things They Carried, 1984, One Flew Over the Cuckoo's Nest
Favorite tv :
South Park, The Simpsons, Family Guy, Tosh.0, Adventure Time, Regular Show, Top Gear, Deadliest Warrior, 1,000 Ways to Die
Own groups: The Chubby Chassers Group.
Member of: The Jellyfishing Club, Toki Wartooth FTMFW!, "I play my guitar as high as Tom Morello", Tool, DEVIN TOWNSEND FANS, UG's Sexiest User Competition 2010, Long Hair Society, We're here to fuck shit up., PETH, Let's See How Many People Can Join This Group, Cheese Appreciation Club, Regular Group, Adventure Time!
Life's a Japanese game show. It's bizzare, unpredictable, and takes pleasure from your suffering. - Me


I am an eighteen year old guy who lives in Rio Rancho, New Mexico. I go to Rio Rancho High School, and I don't drink or smoke, Although if you had to read this to find that out, your a freaking moron.

Now for the things you couldn't find out by just reading the stuff on the left, arranged in a very poorly organized paragraph:

I have a very humorous, yet subtle personality. I am very impatient, and have trouble focusing on anything that doesn't interest me. I am also somewhat awkward to speak to, and don't like making eye contact with people. Ever. Despite that, I don't have much trouble making friends. I am Hispanic, although people always think I'm Native American because of my long hair. My hobbies include Biking, Camping, and Computers. I was born here in New Mexico, and my family has moved everywhere from Maryland to San Diego before settling back here. I have ADD, Aspergers (the reason for the whole eye contact thing), Anxiety and panic attacks, and occasionally depression. As a result you could probably start a drug lab with the stuff in my medicine cabinet. Oh yeah, and I play guitar, but If you didn't realize that, then I'm not sure how you even turned on your computer.

Here's an assorted playlist of some songs that define my taste in music.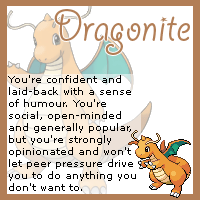 My Political Views
I am a left social libertarian
Left: 4.23, Libertarian: 6.71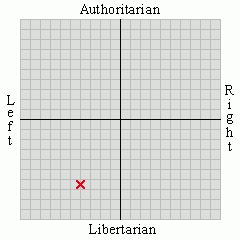 Political Spectrum Quiz


My Foreign Policy Views
Score: -8.74


Political Spectrum Quiz


My Culture War Stance
Score: -7.22


Political Spectrum Quiz
What political ideology do you have?

Your Result: Democratic Socialist

You are the standard European socialist who believes that the government should spend large amounts of money on social welfare programs. You also believe that these social welfare programs are mandated by the people who vote in your ideal democratic government

Anarchist