Blog archive :
First | Last
Next 10
Sunday, December 25, 2011
Top metal albums of 2011
Just like last year, I've compiled a list of albums. This time around it's only albums released this year.
And just like last time, this is a personal list. If you disagree that's completely fine, I won't take any offense.

Unite music, don't segregate it.

The list isn't in any order whatsoever except alphabetic.
Hope you find something interesting and Happy Holidays to you all.
Enjoy!

__________________________________________________
Abysmal Dawn - Leveling The Plane Of Existence
Alestorm - Back Through Time
Amon Amarth - Surtur Rising
Amorphis - The Beginning Of Times
Anaal Nathrakh - Passion
Anthrax - Worship Music
Arch Enemy - Khaos Legions
Astral Doors - Jerusalem
Axenstar - Aftermath
Belphegor - Blood Magick Necromance
Bloodbound - Unholy Cross
Borealis - Fall From Grace
Charizma - Strength And Faith
Decapitated - Carnival Is Forever
Devildriver - Beast
Divinefire - Eye Of The Storm
Dragonland - Under The Grey Banner
Dream Theater - A Dramatic Turn Of Events
Dreamtale - Epsilon
Edguy - Age Of The Joker
Epidemia - Rider Of Ice
Euphoreon - Euphoreon
Falconer - Armod
Fleshgod Apocalypse - Agony
Gaia Epicus - Dark Secrets
Galneryus - Phoenix Rising
Hammerfall - Infected
Hate Eternal - Phoenix Amongst The Ashes
Hibria - Blind Ride
Iced Earth - Dystopia
Illdisposed - There Is Light (But It's Not For Me)
Insomnium - One For Sorrow
Iron Savior - The Landing
Korpiklaani - Ukon Wacka
Lazarus A.D. - Black Rivers Flow
Legion Of The Damned - Descent Into Chaos
Machine Head - Unto The Locust
Megadeth - Th1rt3en
Nightwish - Imaginaerum
Obscura - Omnivium
Omnium Gatherum - New World Shadows
Origin - Entity
Pagan's Mind - Heavenly Ecstasy
Panzerchrist - Regiment Ragnarok
Power Quest - Blood Alliance
Powerwolf - Blood Of The Saints
Revocation - Chaos Of Forms
Rhapsody Of Fire - From Chaos To Eternity
Scar Symmetry - The Unseen Empire
Septicflesh - The Great Mass
Stormwarrior - Heathen Warrior
Stratovarius - Elysium
Symphony X - Iconoclast
Theocracy - As The World Bleeds
Tır - The Lay Of Thrym
Ulcerate - The Destroyers Of All
Van Canto - Break The Silence
Vomitory - Opus Mortis VIII
Wizard - ...Of Wariwulfs And Bluotvarwes
__________________________________________________
59 Albums
9:41 pm - 0 comments - 4 Kudos
Monday, December 27, 2010
The Best Metal Albums 2000 - 2010
[The Best Albums 2000 - 2010 pt.1]



This part of the blog is my personal opinion based list of the best albums between 2000 and 2010. Keep in mind that it's completely opinion based.

i choosed to a list of the best Metal albums, and as said: It's [MY] opinion, which might or might not come in terms with yours.

The set up for the list is as follows:

[Year]
[Band name] - [Album Title]
[Band name] - [Album Title]
[Band name] - [Album Title]

The list is only ordered in alphabetic order.
__________________________________________________ _______________________________


[The Best Albums 2000 - 2010 pt.2]



[2000]

At Vance - Heart of Steel
Axxis - Back to the Kingdom
Dark Tranquillity - Haven
Decapitated - Winds of Creation
Elvenking - Heathenreel
HammerFall - Renegade
Helloween - Dark Ride
Nevermore - Dead Heart in a Dead World
Nile - Black Seeds of Vengeance
Nocturnal Rites - Afterlife
Old Man's Child - Revelation 666 (The Curse of Damnation)
Pantera - Reinventing the Steel
Persuader - The Hunter
Rhapsody of Fire - Dawn of Victory
Sabaton - Fist for Fight
Sonata Arctica - Silence
Stratovarius - Infinite
Symphony X - V-The New Mythology Suite
The Berzerker - The Berzerker


[2001]

Anaal Nathrakh - The Codex Necro
Arch Enemy - Wages of Sin
At Vance - Dragonchaser
Axxis - Eyes of Darkness
Burning Point - Salvation by Fire
Emperor - Prometheus - The Discipline of Fire & Demise
Falconer - Falconer
Fear Factory - Digimortal
Freedom Call - Crystal Empire
Gamma Ray - No World Order
Into Eternity - Dead or Dreaming
Iron Savior - Dark Assault
Kamelot - Karma
Kreator - Violent Revolution
Megadeth - The World Needs a Hero
Rhapsody of Fire - Rain of a Thousand Flames
Silencer - Death - Pierce Me
System of a Down - Toxicity


[2002]

Amon Amarth - Versus the World
At Vance - Only Human
Axenstar - Perpetual Twilight
Axxis - Pure & Rough
Blind Guardian - A Night at the Opera
Celesty - Reign of Elements
Dark Tranquillity - Damage Done
Decapitated - Nihility
Dream Evil - Dragonslayer
Dream Theater - Six Degrees of Inner Turbulence
Dreamtale - Beyond Reality
Dreamtale - Ocean's Heart
Falconer - Chapters from a Vale Forlorn
Fear Factory - Concrete
Freedom Call - Eternity
HammerFall - Crimson Thunder
Hate Eternal - King of all Kings
Iron Savior - Condition Red
Luca Turilli - Prophet of the Last Eclipse
Nile - In Their Darkened Shrines
Nocturnal Rites - Shadowland
Power Quest - Wings of Forever
Rhapsody of Fire - Power of the Dragonflame
StormWarrior - StormWarrior
Symphony X - The Odyssey
System of a Down - Steal This Album!
The Berzerker - Dissimulate


[2003]

Arch Emeny - Anthems of Rebellion
At Vance - The Evil in You
Axenstar - Far From Heaven
Burning Point - Feeding the Flames
DevilDriver - DevilDriver
DragonForce - Valley of the Damned
Dream Evil - Evilized
Dream Theater - Train of Thought
Epica - The Phantom Agony
Falconer - The Sceptre of Deception
Helloween - Rabbit Don't Come Easy
Highland Glory - From the Cradle to the Brave
Kamelot - Epica
Metallica - St. Anger
Nevermore - Enemies of Reality
Old Man's Child - In Defiance Of Existence
Sonata Arctica - Winterheart's Guild
Spawn of Possession - Cabinet
Stratovarius - Elements Pt.1
Stratovarius - Elements Pt.2
Swallow the Sun - The Morning Never Came
The Black Dahlia Murder - Unhallowed


[2004]

Anaal Nathrakh - Domine Non Es Dignus
Axxis - Time Machine
Celesty - Legacy of Hate
Death Angel - The Art of Dying
Decapitated - The Negation
DragonForce - Sonic Firestorm
Dream Evil - The Book of Heavy Metal
Elvenking - Wyrd
Exodus - Tempo of the Damned
Fear Factory - Archetype
Into Eternity - Buried in Oblivion
Iron Savior - Battering Ram
Machinae Supremacy - Deus Ex Machinae
Machinae Supremacy - Jets'n'Guns OST
Megadeth - The System Has Failed
Necrophagist - Epitaph
Ninja Magic - Ninja Nation
Nocturnal Rites - New World Messiah
Persuader - Evolution Purgatory
Power Quest - Neverworld
Rhapsody of Fire - Symphony of Enchanted Lands II - The Dark Secret
Sonata Arctica - Reckoning Night
StormWarrior - Northern Rage
Wintersun - Wintersun
Xystus - Receiving Tomorrow


[2005]

Arch Emeny - Doomsday Machine
At Vance - Chained
Axenstar - The Inquisition
Balflare - Thousands of Winters Of Flames
Dark Tranquillity - Character
Demons & Wizards - Touched by the Crimson King
DevilDriver - The Fury of Out Maker's Hand
Devourment - Butcher the Weak
Dream Theater - Octavarium
Dreamtale - Difference  
Epica - Consign to Oblivion
Epica - The Score - An Epic Journey
Exodus - Shovel Headed Kill Machine
Falconer - Grime Vs. Grandeur
Fear Factory - Transgression
Freedom Call - The Circle of Life
Gamma Ray - Majestic
HammerFall - Chapter V: Unbent, Unbowed, Unbroken
Hate Eternal - I, Monarch
Helloween - Keeper of the Seven Keys - The Legacy
Highland Glory - Forever Endeavour
Kamelot - The Black Halo
Kreator - Enemy of God
Nevermore - This Godless Endeavor
Nile - Annihilation of the Wicked
Nocturnal Rites - Grand Illusion
Old Man's Child - Vermin
Power Quest - Magic Never Dies
Roadrunner United - The All-Star Sessions
Sabaton - Primo Victoria
Scar Symmetry - Symmetric in Design
Stratovarius - Stratovarius
Swallow the Sun - Ghosts of Loss
System of a Down - Hypnotize
System of a Down - Mezmerize
The Berzerker - World of Lies
The Black Dahlia Murder - Miasma
Timeless Miracle - Into the Enchanted Chamber


[2006]

All That Remains - The Fall of Ideals
Anaal Nathrakh - Eschaton
Axenstar - The Final Requiem
Axxis - Paradise in Flames
Balflare - Tempest
Belphegor - Pestapokalypse VI
Blind Guardian - A Twist in the Myth
Celesty - Mortal Mind Creation
Cellador - Enter Deception
Crystallion - A Dark Enchanted Crystal Night
Decapitated - Organic Hallucinosis
Dissection - Reinkaos
DragonForce - Inhuman Rampage
Dream Evil - United
Elvenking - The Winter Wake
Falconer - Northwind
HammerFall - Threshold
Into Eternity - The Scattering of Ashes
Luca Turilli - The Infinite Wonders of Creation
Luca Turilli's Dreamquest - Lost Horizons
Machinae Supremacy - Redeemer
Persuader - When Eden Burns
Rhapsody of Fire - Triumph or Agony
Sabaton - Attero Dominatus
Scar Symmetry - Pitch Black Progress
Spawn of Possession - Noctambulant
The Faceless - Akeldama


[2007]

Anaal Nathrakh - Hell Is Empty And All The Devils Are Here
Arch Emeny - Rise of the Tyrant
At Vance - VII
Axxis - Doom of Destiny
Beneath the Massacre - Mechanics of Dysfunction
Burning Point - Burned Down The Enemy
Dark Tranquillity - Fiction
DethKlok - The Dethalbum
DevilDriver - The Last Kind Words
Dimmu Borgir - In Sorte Diaboli
Dream Theater - Systematic Chaos
Element - Aeons Past
Elvenking - The Scythe
Epica - The Divine Conspiracy
Evile - Enter the Grave
Exodus - Exodus - The Atrocity Exhibition... Exhibit A
Freedom Call - Dimensions
Gamma Ray - Land of the Free II
Helloween - Gambling with the Devil
Iron Savior - Megatropolis
Kamelot - Ghost Opera
Machine Head - The Blackening
Megadeth - United Abominations
Miseration - Your Demons - Their Angels
Nile - Ithyphallic
Nocturnal Rites - The 8th Sin
Powerglove - Metal Kombat for the Mortal Man
Sabaton - Metalizer
Sonata Arctica - Unia
Swallow the Sun - Hope
Symphony X - Paradise Lost
The Berzerker - Animosity
The Black Dahlia Murder - Nocturnal
Xystus - Surreal


[2008]

Alestorm - Captain Morgan's Revenge
All That Remains - Overcome
Amon Amarth - Twilight of the Thunder God
Balflare - Sleeping Hollow
Bonded By Blood - Feed the Beast
Brain Drill - Apocalyptic Feasting
Crystallion - Hattïn
Death Angel - Killing Season
Deeds Of Flesh - Of Whats To Come
DragonForce - Ultra Beatdown
Dreamtale - Phoenix
Edguy - Tinnitus Sanctus
Elvenking - Two Tragedy Poets (...And a Caravan of Weird Figures)
Exodus - Let There Be Blood
Falconer - Among Beggars And Thieves
Hate Eternal - Fury & Flames
Into Eternity - The Incurable Tragedy
Jeff Loomis - Zero Order Phase
Machinae Supremacy - Overworld
Metallica - Death Magnetic
Power Quest - Master of Illusion
ReinXeed - The Light
Revocation - Empire of the Obscene
Revolution Renaissance - New Era
Sabaton - The Art of War
Scar Symmetry - Holographic Universe
StormWarrior - Heading Northe
Testament - The Formation of Damnation
The Berzerker - The Reawakening
The Faceless - Planetary Dulaity
The Plasmarifle - While You Were Sleeping, The World Forever Changed In An Instant
Tracedawn - Tracedawn
Trivium - Shogun
Xystus - Equilibrio


[2009]

Alestorm - Black Sails at Midnight
Anaal Nathrakh - In the Constellation of the Black Widow
At Vance - Ride the Sky
Axxis - Utopia
Burning Point - Empyre
Celesty - Vendetta
Crystallion - Hundred Days
DethKlok - The Dethalbum II
Devourment - Unleash the Carnivore
Dream Theater - Black Clouds & Silver Linings
Epica - Design Your Universe  
Evile - Infected Nations
F.K.Ü - Where Moshers Dwell
Fairyland - Score to a New Beginning
HammerFall - No Sacrifice, No Victory
Heathen - The Evolution of Chaos
Ignominious Incarceration - Of Winter Born
Kreator - Hordes of Chaos
Mantic Ritual - Executioner
Megadeth - Endgame
Miseration - The Mirroring Shadow
Nile - Those Whom the Gods Detest
Old Man's Child - Slaves of the World
ReinXeed - Higher
Revolution Renaissance - Age of Aquarius
Savage Circus - Of Doom & Death
Scar Symmetry - Dark Matter Dimensions
Sonata Arctica - The Days of Grays
Stratovarius - Polaris
Swallow the Sun - New Moon
Tracedawn - Ego Anthem


[2010]

All That Remains - ...For We Are Many
Blind Guardian - At the Edge of Time
Bonded By Blood - Exiled To Earth
Cellador - For All or Nothing
Dark Tranquillity - We Are the Void
Death Angel - Relentless Retribution
Dream Evil - In the Night
Elvenking - Red Silent Tides
Exodus - Exhibit B: The Human Condition
Fear Factory - Mechanize
Freedom Call - Legend of the Shadowking
Gamma Ray - To the Metal
Helloween - 7 Sinners
Kamelot - Poetry for the Poisoned
Machinae Supremacy - A View from the End of the World
Nevermore - The Obsidian Conspiracy
Overkill - Ironbound
Pathfinder - Beyond the Space Beyond the Time
Powerglove - Saturday Morning Apocalypse
ReinXeed - Majestic
Revolution Renaissance - Trinity
Sabaton - Coat of Arms
Sons of Liberty - Brush-Fires of the Mind

____________
Total: 297


3:10 pm - 5 comments - 6 Kudos
Monday, December 27, 2010
Farewell
Hey, been a while since i did a blog with an insight of what's really happening in my life, so here goes.
This is the last day I'll be here in Sweden for a while, tonight I'm leaving to India, and I'll come back the first week of march. This being said, i can't spend as much time on UG as i can from here, but I'll sign in once in a while from there.

3:10 pm - 1 comments - 0 Kudos
Sunday, December 12, 2010
Chuck Schuldiner.
Again, the day has come for me and many other Death fans to remember the main man behind the band, Death.
As his greatest creation soon became such a beautiful thing worldwide, i don't even think he expected it to be like that.
On this day 2001, he tragically passed away in a rough battle with cancer.

I still can't comprehend the thing Death Metal has turned into, it expressed absolutely everything, some times it feels like even more than that.

May us just remember Chuck for the person, musician and...Philosopher 


Rest in Peace
Chuck Schuldiner
1967 - 2001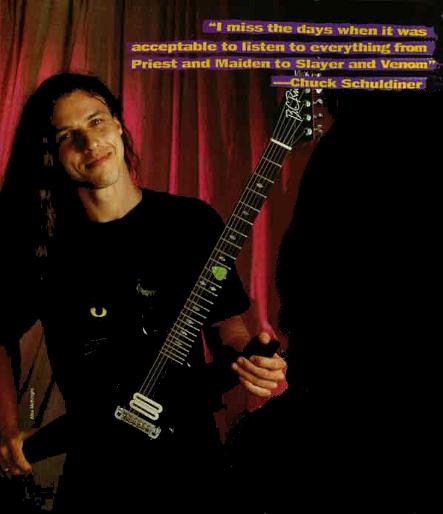 2:26 am - 2 comments - 2 Kudos
Wednesday, December 08, 2010
Another year has passed, with the passing of 2 ico
The day has come yet again, the day when i (and i'm sure a lot of you people) remember the the 2 icons known as Dimebag Darrel and John Lennon.

It always feels like there's something missing on this day, they were that incredibly influential, and their fate ended the same way with a gap 24 years in between. Same day, Same scenario.

May they never be forgotten, we thank you both for what you have given us, we can play as many tributes as we want, but compared with just a glimpse of your art, it's nothing.

May you both rest easy, we miss you and we love you.


         "Dimebag" Lance Darrell Abbot                                             John Winston Ono Lennon

    (August 20, 1966 - December 8, 2004)                              (October 9, 1940 - December 8
, 1980)
10:18 pm - 3 comments - 6 Kudos
Monday, September 27, 2010
24 years has passed, yet your memory remains.

We love you Cliff, rest easy.
Thank you for inspiration and your amazing music.
You will be missed forever, my hero.
 

8:18 pm - 1 comments - 4 Kudos
Monday, February 01, 2010
a little something
Current mood: guilty
Hey everyone,

i'm just letting you all know that i'm taking some time off from UG.
i need some time to think about certain things, it's just a lot of stuff in my head atm, i have to solve it all.
don't ask me what it is, please..don't.

i'll be back as soon as i can.
i will miss UG a lot, but this is the way it have to be right now.
*sigh*
i'm sorry if i made some of you upset, but i can't cope with it all at the same time..
i'll be back..i promise.

if you read this, please spread the word so no one gets worried, and you who are reading this, don't worry either.
it's none of you guys fault, really not.

i'm just sorry if this is upsetting some of you, it's not fair if you're upset for something that i've caused.

i will be back in time, i hope and pray for a beginning of a new era with you all.

until we meet again.
Take care UG, stay safe.

once again, i'm sorry...=/

/Daniel, Dante, ChaosKid 2.0



8:27 pm - 5 comments - 2 Kudos
Saturday, December 19, 2009
Good-bye
Current mood: accomplished
Hey UG!
Well, i'm gonna leave in about 90 mins (going to india), so i thought i'd say a few words before leaving.
Well, it's soon Christmas and everyone seems really busy and stressed out, no one has time for anything. Lol, now that i think about it...that's a tradition itself =P
Well, i would give you all a gift, a song (acually another cover), but the file got wierd and i can't convert it again cause it's on the other pc...so i'll have to upload it another time, sorry >.<

last but surly not least:
Merry Christmas and a Happy New Year!!!

/Daniel

2:01 am - 6 comments - 8 Kudos
Monday, December 14, 2009
Rest In Peace oh Father of Death Metal
Chuck Schuldiner
Death
Control Denied
Death Metal
These words are so much more than just
words.
He made them to what they are today,
wisdom
.
He, who opened the mighty gates of
Death Metal
.
He gave us the sound, the
Voice of the Soul
.
As He stood tall on the
Crystal Mountain
.
He is our
Philosopher
.
He made
Overactive Imagination
reality in the form of pure metal spirit.
May he never be forgotten.
May he
Rest In Peace
.
Charles Michael "Chuck" Schuldiner
5:31 pm - 4 comments - 6 Kudos
Tuesday, December 08, 2009
Dimebag Darell & John Lennon R.I.P
The day when 2 legends passed away.
24 years between each death.
1980 - 2004.
The Beatle and The Cowboy From Hell.
Both influenced the whole world.
May they never be forgotten.
May they

Rest In Peace

.



                  John Lennon                                                    Dimebag Darrell
4:22 pm - 4 comments - 4 Kudos