Monday, February 11, 2008
VAN HALEN! (with crappy pics)
Views: 702
Comments: 12
Was pretty friggin epic. One of Bob Marley's son's bands opened for them which seemed kinda weird but they we're pretty good i guess we didnt get to hear much of them.
(my dad wearing the shirt he bought)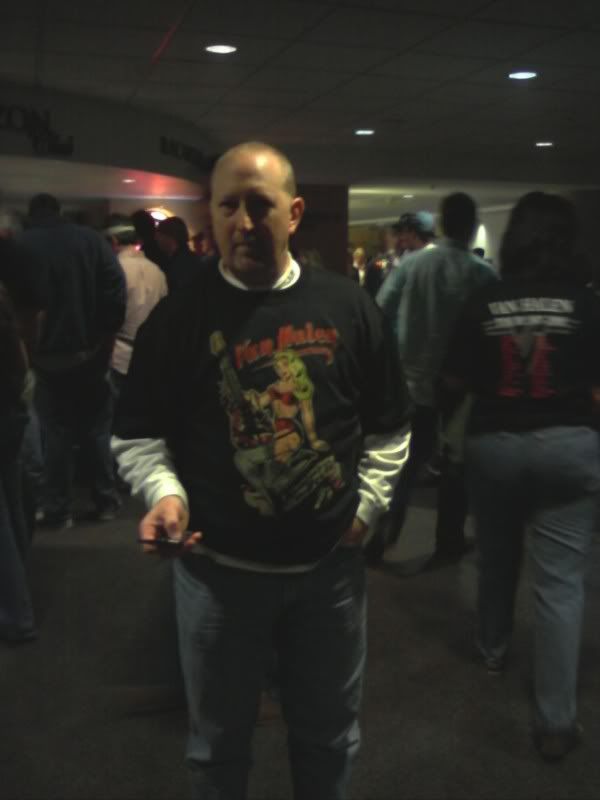 Then after like a 20 minute break between the sets it got all dark and eddie came out behind this tarp and played this intro guitar solo thingy then the rest of the stage was revealed and they opened on "you really got me" if my memory is correct.
(Here you can sorta see the huge drape covering most of the stage...)



Basically they played every good song from the Roth era. When they played dance the night away during one of the choruses the band stopped playing and let the audience sing "daaance daaance daance the niiight away" it was amazing although i wish they wouldve done that on panama it wouldve been even better. Eddie had like a 20 minute guitar solo in which towards the middle to end he had some technical difficulties but it was all good in like two minutes.

There "final" song was "Ain't talkin' 'bout love" which was awesome then they went off the stage for a few minutes and Dave came on with a giant red flag and was swinging it around and walking around the stage and he said something along the lines of "WE HAVE ONE MORE FOR YA!" then that famous synth line to "jump" came on and everyone went crazy and confetti started coming from the ceiling it was truly wonderful.
(Here is a picture from when they were playing "jump" you can see all teh confetti it was awesome)

9:47 am - 12 comments - 6 Kudos - Report

!
Flying Couch
wrote on
Feb 16th, 2008 7:53pm
Heh, I bought the same shirt as your dad. You have such better seats than I, lucky.
:
sock_demon
wrote on
Feb 27th, 2008 4:34pm
Wow. I hate you.
WyldChylde
wrote on
Oct 5th, 2008 6:11pm
I went and saw them too. I never have had a better experience in my life.

Did you notice that DLR changed shirts all the time and must've spent a fortune on all his clothes?
rosew/100thorns
wrote on
Jan 17th, 2009 11:55pm
im sooo jealous. ur soo lucky. I was supposed to go for my 13th birthday and my parents FORGOT TO ORDER THE TIX!!! worst b-day ever.
dale-banez
wrote on
Jun 19th, 2009 9:23pm
haha. I went to this show oct. 2007 in indiana I think. or ohio.