Blog archive :
First | Last
Next 10
Monday, December 19, 2011
I've had a mole removed
Current mood: Lucky
Hey, I've just had mole removed from my thigh after I noticed it was changing.

It look normal though I had noticed it had appeared only in the last 4 months or so. Then it became a circle with another bit on the side of it. Next stage it had a redish ring round the outside.

Friend of mine had a mole removed and it was cancerous which worried me loads! So thought best to get it checked out.

Glad I did as after 2 minor ops and 15 stitches I found it was cancerous. It makes you look at life in a different way.

If you have a skin tag or mole your conside about please don't hesitate and go and get it checked out. You never know it could be nothing....

9:56 pm - 0 comments - 0 Kudos
So who is off to see Foo Fighters Back and Forth f
Current mood: accomplished
Hey

Just wondered how many UGers are off to see this film?


This will be my first Music documentary at the cinema 
7:35 pm - 0 comments - 0 Kudos
Tuesday, February 08, 2011
Help chosing a car colour?! Colour poll
Current mood: hungry
Hey all,
Just found out I will be getting a company soon 
I will be given a Vauxhall Insigina hatchback which I will need to chose and order asap.
I have already decided to go for the build-in Sat Nav that also works as an ipod control and uprated speaker system with a built in amp.
Just can't decide what colour to go for?
Blue, red, green, black? What's the pits opinion?
PS don't want another silver car as my last 3 cars have been silver.
7:14 pm - 0 comments - 0 Kudos
Thursday, November 25, 2010
Just got give an itunes voucher. Now what should I
Current mood: Frapping
So I have just been given a £10 itunes giftvoucher and I am wondering what to download?


I like a really mix of music from Disturbed to Biffy Cyro,  Buns n noses to slipknot, Enya to Madonna, Fall out boy to Exit ten.


Basically most things other than soul, hiphop rap, chart music etc the norm for most other ppl UGers excluded of course.
6:19 pm - 0 comments - 0 Kudos
Do I buy a electric or acoustic guitar for my 6yr
Current mood: full
Well my daughter is now 6 and I wanna her to have her own guitar. She always strums mine for me and so seems interested in learning.

Just can't decide whether to get her an electric guitar or a acoustic one?

Acoustic seems cheaper which is good but the strings are thicker and thus will hurt her fingers more with a knock on effect that she may not feel like playing because of the initial finger pain.

Electric costs more (even one with a built in speaker) but has thinner strings.

Help!!!

9:31 pm - 0 comments - 0 Kudos
Sunday, December 06, 2009
FS/FT Line 6 Spider 2 amp, cover and FBV Shortboar
Current mood: okay
Hi,

I have a Line 6 Spider 2 amp, cover and FBV Shortboard for sale or trade in UK. I would really like to sell as one item rather than splitting!

Not sure how much I am looking for but the Spider is 25months old and the Shortboard is about 10months old both from new. Never been gigged.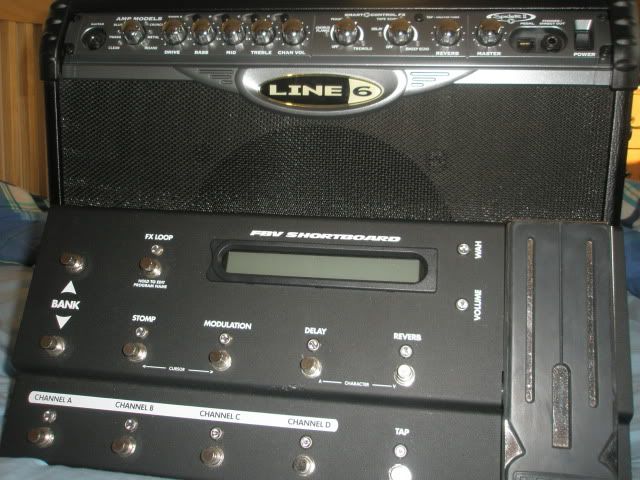 There is a slight knock on the front of the shortboard.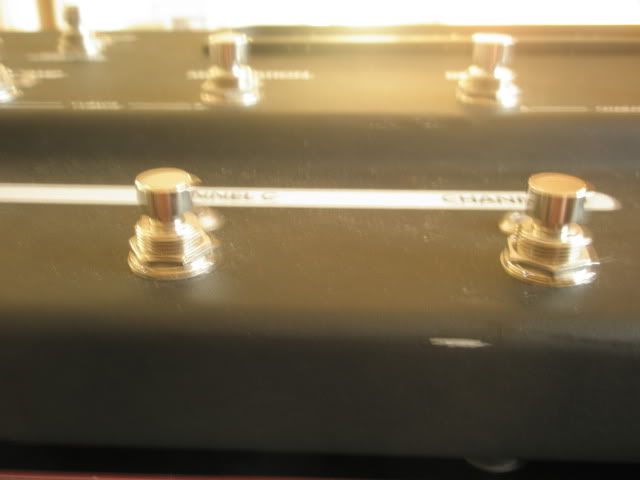 Looking to down size so am open to trades to a smaller amp, doesn't have to be a modelling amp either.



8:22 pm - 1 comments - 0 Kudos
Tuesday, February 03, 2009
POLL Need a metal Guitar for drop C tuning. HELP
Current mood: curious
Ok have an Burny LP which I use for Rock and standard tuning + drop d with 10s in it.

I have started to want to play drop C tunes like Killswitch Engage and Disturbed tunes.

The LP is ok but really needs 11s or even 12s.

So I have got down to 3 guitars to chose from:-

Dean 79 Series Z in one of the sunburst finishes
http://www.bill-lewington.com/Dean/electrics/dean7 9.htm

Jackson KE3 in black
http://www.guitarampkeyboard.com/en/ke-3/1251

B.C. Rich Mockingbird Masterpiece in trans black
http://www.guitarampkeyboard.com/en/75254

Really like these 3 so far but can't chose as I like them all for different reasons!

Dean looks and plays awesomely well, the Jackson has duncan pups and the mockingbird is metal heaven!!

Please vote which I should use to tear up the south of England with.



11:00 pm - 8 comments - 0 Kudos
Friday, December 19, 2008
Which songs have the most swear words, 49 F*$ks in
Current mood: bored
Ok so me and my m8 in the office have been chatting after listening to Hotdog by Limp Bizkit, which song has the most swear words in?

 
Of course we are wondering this out of sheer boredom!!!!!!!!

 
I wondered which tune had the most swear words in above any others!!! maybe I should start this in a polling thread?!

So what other songs have a ton of swear words in them:-
 
Hotdog - limp Bizkit

F*ckin in Heaven - fatboy slim

it's so easy - GNR

Get in the Ring - GNR

...err what else?
11:30 pm - 5 comments - 1 Kudos
Monday, November 24, 2008
[REQ] Please tab or Power tab 'Don't fear the reap
Current mood: creative
PLEASE HELP I have fallen in love with this beautiful song. But I don't know how to play the acoustic version. I can play the electric version. HIM seem to play the acoustic version differently espically the intro.
10:44 am - 0 comments - 0 Kudos